---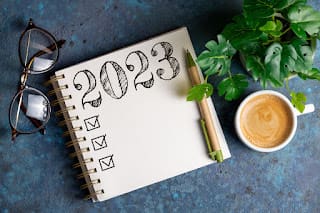 ---
End of January Resolutions Check-In
---
---
How Are You Doing on Your New Year's Resolutions?
The end of January is here, and for many of us, it's time to take a step back and evaluate how we are doing on our resolutions. Are you sticking to your New Year's goals? We know how hard it can be to stay on track!
In this blog post, we'll look at some tips for setting achievable goals and staying motivated throughout the rest of the year.
Set Achievable Goals
It's important to set realistic goals that you can achieve. If your goal is too big or vague, you might feel overwhelmed by the task ahead. Break down big goals into smaller steps that are easier to manage and track. For example, if your goal is to save money, start by tracking your spending and setting a budget. Figure out what expenses are essential and which luxuries you can cut back on or eliminate entirely.
Stay Motivated
Staying motivated is key when it comes to achieving your resolutions. Take time each day to review your progress and celebrate the small victories. Reward yourself when you reach milestones or make significant strides toward achieving your goal. This could mean treating yourself to a massage, getting an extra hour of sleep, or splurging on a new pair of shoes (if it fits within your budget!). Just be sure not to overdo it — you don't want any rewards undermining all the hard work you've put in!
Get Support
Having someone who will support and encourage you throughout the process can make all the difference in helping you reach your goals. Find an accountability partner who will check in with you regularly and provide helpful feedback if needed. You could also join a support group — either online or in person — where everyone has similar resolutions that they're trying to achieve together as a team. This community-based support can help keep you focused and motivated throughout the year!
And remember to keep your environment clean! Whether for your home or business, our professional team is here to help make the rest of this year easier.
Get In Touch With Us For All Your Cleaning and Restoration Needs
Cleaning and organizing your home can be challenging to deal with, and it is often best to bring in some professionals to help. Contact GreenPro Cleaning and Restoration to take care of your ducts, attics, crawl spaces, and water damage needs.
---