---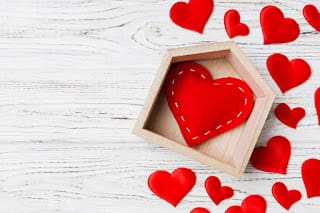 ---
6 Ways To Show Your Home Some Love
---
---
Valentine's Day is almost here! Do you feel love in the air? Well, if you're looking for more ways to bring this positive energy into your life, it might be time to show your home some extra love this February. Get into the season of celebration by taking on these six important tasks to help care for your humble abode and surround yourself with a loving feeling leading up to this holiday.
1. Deep Clean
The best place to start is with a deep cleaning of your home. Take some time to clean areas you don't get to daily, or maybe even hire a professional to really get the job done. Either way, your house deserves a spa day every once in a while too!
2. Consider a Makeover
Have you been thinking about changing the color of your living room walls for a while? Or have you been meaning to try a new decoration theme for your bathroom? Now is the time to start! Whether you want to make it simple or feel like taking on a big project, any makeover in your home can help bring the love back to your space.
3. Treat Yourself
Sure, you can treat yourself in many ways that don't involve home upgrades, but you shouldn't hesitate to get a gift or two for your living spaces this month! Get that lamp you have been eyeing, buy that pretty vase, or hang that elegant painting. It's the little things that make a home feel whole.
4. Brighten Your Spaces
It's easy to forget about the sun during the winter months. A great way to feel happy in your humble abode is to remember to keep things brighter. Consider opening your window shades more often or even filling an area with lighter colors to help contrast how dark it gets at night during this time of year.
5. Take Good Care of It
Your home is your sanctuary, so it's essential to ensure it's well taken care of. This includes checking in on items such as your HVAC system, roof and siding, attic and crawlspace, and more. This also includes ensuring that problems are fixed with haste, such as remediation for water damage.
6. Keep Up With Regular Maintenance
Like the points mentioned above, keeping up with maintenance checks for all areas of your house is the best way to ensure everything is in order. From cleaning your air ducts to insulating your attic, give all your love to your humble abode this season with regular professional checks!
Get In Touch With Us For All Your Cleaning and Restoration Needs
Cleaning and organizing your home can be challenging to deal with, and it is often best to bring in some professionals to help. Contact GreenPro Cleaning and Restoration to take care of your ducts, attics, crawl spaces, and water damage needs.
---