---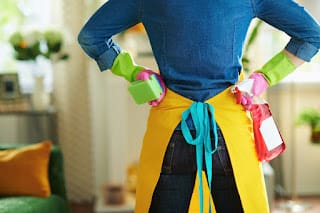 ---
2023 Home Cleaning Resolutions
---
---
It's the start of a new year, so it's time to set some goals and make positive changes in our lives! One great way to do this is by setting home cleaning resolutions. In fact, having a clean and organized home helps us feel more relaxed and productive.
Let's consider some of the best resolutions you can make for your home this year.
Declutter Your Home
The first step to having a cleaner home is by decluttering your space. Get rid of items that you no longer use or need — this includes clothes, furniture, and anything else that takes up unnecessary space in your house. You can even consider donating items or selling them online if you want to make a bit of money from them. Decluttering first allows for much easier cleaning of the rest of your humble abode!
Set Up a Cleaning Schedule
Developing a cleaning schedule and sticking to it is the best way to keep up with all your chores. Set up specific days for each task, such as vacuuming on Monday and dusting on Wednesday. Ensure that you include processes that are often overlooked. When was the last time you deep-cleaned the bathrooms or washed the windows? Add those to your Friday to-do list. Having an established schedule will help you stay organized throughout the year.
Invest in Quality Cleaning Services
It's essential to make sure your house is safe, clean, and healthy. The best way to do this is by investing in some of the best high-quality cleaning services! From air duct cleaning to attic or crawlspace organization, taking some time to research what services would be best suited for your needs will make it easy to save time and effort this year.
Get In Touch With Us For All Your Cleaning and Restoration Needs
Cleaning and organizing your home can be challenging to deal with, and it is often best to bring in some professionals to help. Contact GreenPro Cleaning and Restoration to take care of your ducts, attics, crawl spaces, and water damage needs.
---